Team Knowhow Live Chat is Open for the Following Hours:
24 hours a day – Seven days a week
Home appliances and electronic gadgets are the things of our age. They have brought us convenience but sometime they may also be a source of nuisance – when they get out of order. But fortunately, we have businesses that take care of every aspect of these modern gadgets and appliances.
Team Knowhow is one such UK-based services company that not only offers installation of theses appliances and gadgets but also offers support, protection, and repair services. You can either take your gadget to their store or can hire a home service. Their competent technicians are ready to visit homes for on-site rectification. Besides, you can also benefit from the comprehensive how-to guides, tutorials, and lectures as they have an amazing knowledge bank on their website. By going through their knowledge bank section, you can easily do minor maintenance work of almost every gadget and appliance.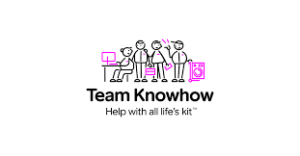 The company sells a wide range of products and also, it has a helpful and supportive customer support team for the resolution of its customers' queries. You can catch up with its support team 24/7.
How to Contact Team Knowhow Live Chat
You can contact Team Knowhow's customer team by clicking the contact tab present at the bottom of the homepage. Once you click the 'contact' tab then a new webpage will open up where several phone numbers will appear.
Presently, Team Knowhow doesn't have any online chat option. Instead they have provided different phone numbers to connect with a customer service representative of the company. On the contact page, you will find phone number of every team like the delivery team, installation team, and repair team. You have to contact with your desired team and your issue will be instantly resolved.
For accessing Team Knowhow contacts click on the following link.