What is the Live Chat Directory?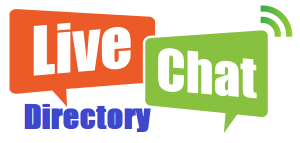 Are you fed up with waiting on hold when trying to call a company? do you have no time to draft a letter or an email? Do you need to find out information quickly? then that's why we are here. In the digital technology world, web chat is now the go-to communication method for people who want a fast, efficient, and more importantly free way of speaking to organizations.
The Live Chat Directory is not a 3rd Party Software provider
So at the live chat directory, we simply do one thing, and we do it really well, we provide you with a One-Stop-Shop to find ALL of the Web Chat Links in the UK under one roof.
The technology we are referring to is known as Web Chat or Live Chat. This technology uses a free and easy method to provide you the customer with faster & more efficient customer satisfaction. 
The Live Chat Directory has been put together with the customer in mind and has been split into easy-to-navigate categories. Some of these categories also have subcategories to make it easier to find the company you are looking for. When you reach the correct company we aim to provide you with simple and easy-to-understand information, such as the webchat opening times and the services that they provide.
We have 2 ways of navigating this website.
Option 1 is to drill down through the categories until you find the organization you are looking for.
Why would you do this?
This option is perfect for new customers that are looking to switch, if a live chat facility is important to you, then find out the companies that provide that service and make your decision. It is also a good option if you are looking for quick answers or to compare answers. Such as insurance quotes or product prices
Check out our live chat categories below
Option 2 is the A-Z Web Chat search
Why would you do this?
This option is great if you want fast and efficient access to the company you are looking for. Simply select the letter the company you are looking for starts with and we will drill down the search for you.
Check out our Webchat A-Z List Below
Most importantly we are about promoting a more modern, private and cheaper way of communication. Why should you pay to speak to a call center? Why should you have to wait for an email reply or letter? Get the information you need straight away and in real-time for zero cost.
Whilst it is our aim to list every company in the UK with a webchat service, we appreciate that we will not be able to capture everyone. So that's where you, our readers come in. If you have used a live chat for a company that we haven't listed, let us know and we will add it at our earliest opportunity.
Also, if you are an organization that we have listed and we have provided incorrect information. Then let us know and we will get it changed for you.
We hope you like what we are doing and we also hope that you will bookmark us and share this website with your friends and family.
Contact Us Page – Or send us an email at support@livechatdirectory.co.uk
The Live Chat Directory is owned by Blue Lantern Media Limited:
 Postal Address: 71-75 Shelton Street, Covent Garden, London, WC2H 9JQ
Info@bluelanternmedia.co.uk / support@livechatdirectory.co.uk